2017 Sports PR Summit Recap
The 2017 Sports PR Summit took place at The Players' Tribune in New York City on May 23. Below is a recap written by students from the Marist Center for Sports Communications of each of the 6 conversations during the full day event.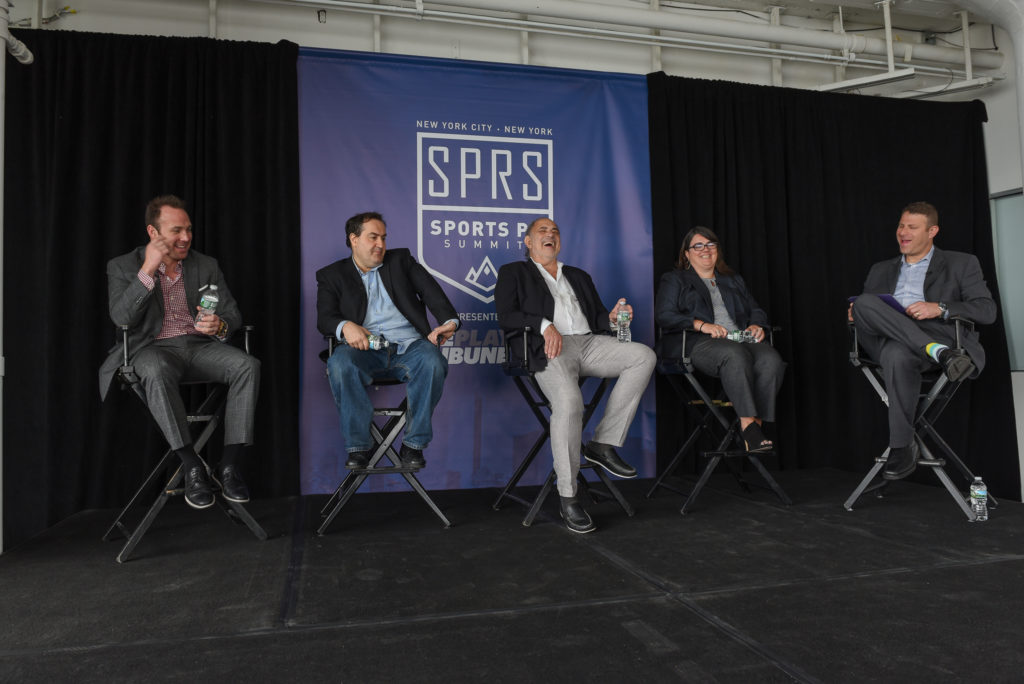 CONVERSATION #1:
In the sports industry, maintaining a personal and positive relationship with clients is a critical key to success. That concept was central in the first panel of the 5th annual Sports PR Summit titled "Inside the Modern Newsroom."
The conversation was moderated by NASCAR's Managing Director of integrated marketing communications Jon Schwartz (@JonSchwartz1) and featured Mary Byrne (@ByMaryByrne), Sr. Deputy Editor of ESPN.com; Gary Hoenig (@playerstribune), The Players' Tribune Editorial Director; Brian Cohen (@BrianFootballAM), NFL Network, Producer of Good Morning Football; and Richard Deitsch (@RichardDeitsch), reporter/podcaster for Sports Illustrated.
Throughout the conversation, the panelists stressed the importance of positive and continuing relationships between reporters and PR professionals. This was especially true for how Sports PR professionals handle media pitches and challenging newsroom issues with their clients.
The panelists all agreed that pitches should be personal. "A good pitch is a personal pitch," Byrne noted. "A bad pitch shows you clearly don't know what I do, what ESPN does, what the opportunities are." The panel also noted the importance of pitching stories highlight the unique stories of athletes. "Stories of people's lives, (the) ups and downs they go through, (those are) the biggest stories we have," Hoenig said. Because of this, The Player's Tribune focuses on publishing first-person stories that capture the uniqueness of individual athletes, stories that often go far beyond household sports names.
The panel also discussed the challenges of crisis management. Deitsch recalled recent interactions between Sports Illustrated and ESPN while covering turmoil at the Mike and Mike morning show. In particular, he noted the importance of PR professionals working with journalists even when the story topics aren't positive for the organization. Deitsch noted that he is much more likely to listen to pitches from PR pros who have previously been open when dealing with negative storylines. "When you're dealing with something not positive and on the level of the journalist that is writing it, it'll pay off when you want to send in something," explained Deitsch. Deitsch stressed that the relationship between the journalist and the PR professional is critical, but it shouldn't be personal. Instead, parties should focus on the job. It is the journalist's job to report the story and the PR professional's job to protect the best interest of their clients. Cohen explained that at this point in his career, he thinks of many PR professionals as his friends.
The panelists all implored industry professionals to never blow-off college or graduate students that come to you looking for advice. Hoenig, recalling his past years spent in graduate school at Columbia University, said, "You never know what position those people might hold in the next five or ten years and how crucial they could be to your job in the future."
The panel closed by noting that no matter how tough the story may be for the athlete, their publicist, or the reporter, you should try to maintain a healthy relationship. "The industry is a small business – don't burn bridges," explained Byrne.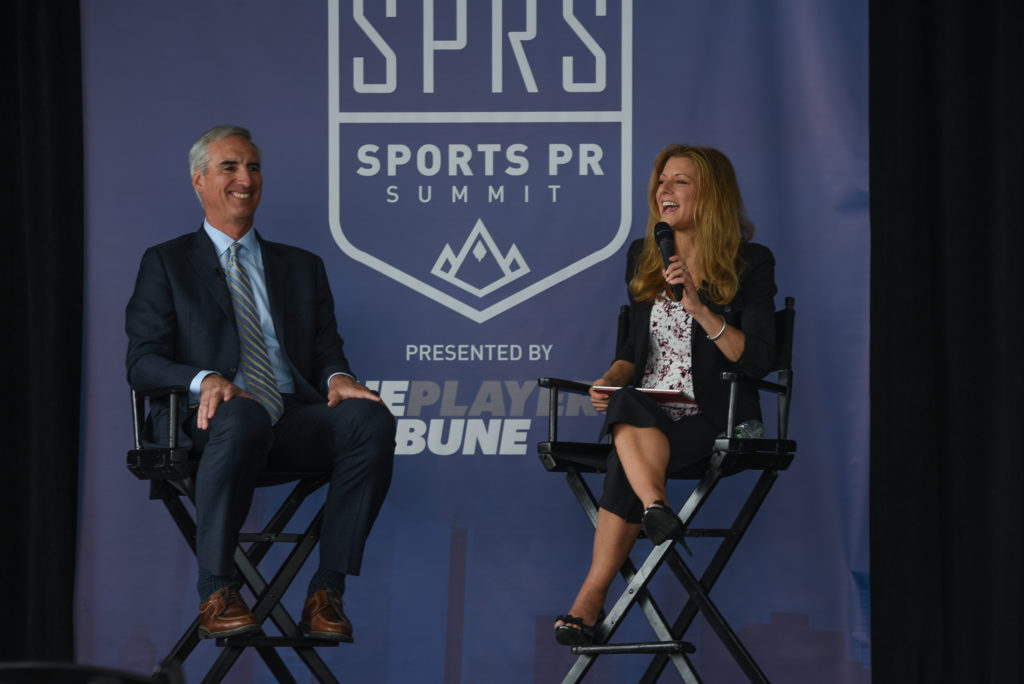 CONVERSATION #2:
The second event of the morning was a featured conversation with NCAA Executive Vice President of Regulatory Affairs and Strategic Partnerships Oliver Luck. Moderated by the founder of Walk Swiftly Productions and ESPN/CBS veteran reporter Bonnie Bernstein (@BonnieBernstein), this conversation provided attendees an inside look at the NCAA.
Luck began by explaining that public relations serves as an equally important function to the NCAA and his team as it is to other organizations in the industry. In his words, "it needs to be strong, creative and powerful." This is a day-to-day task for the NCAA, enabling them to get their mission and vision of their organization to the public. They serve to support athletes while they participate in college, and also after their collegiate careers are over.
The topic swiftly moved to crisis management. When Bernstein asked whether the NCAA seeks outside help to manage crises, Luck explained that the NCAA has developed the skill set to handle these issues in-house. "We've gotten good at crisis management because we've handled so many of them."
Luck later spoke about the importance of making mistakes – all of which have helped him grow and recognize which traits would help him become more successful. In particular, Luck emphasized the importance of honesty when solving any problem. "Crisis management is all about being honest. If you make a mistake, acknowledge it, and move on."
Luck also addressed the decision of the NCAA to pull any championships to be played in North Carolina due to the HB2 law enacted this past year. "This decision was talked about daily in the NCAA. We weren't attempting to interfere in the democratic process in any way, but needed to take a stand to protect our athletes," explained Luck. "We don't want to distract from the core mission of supporting our student athletes."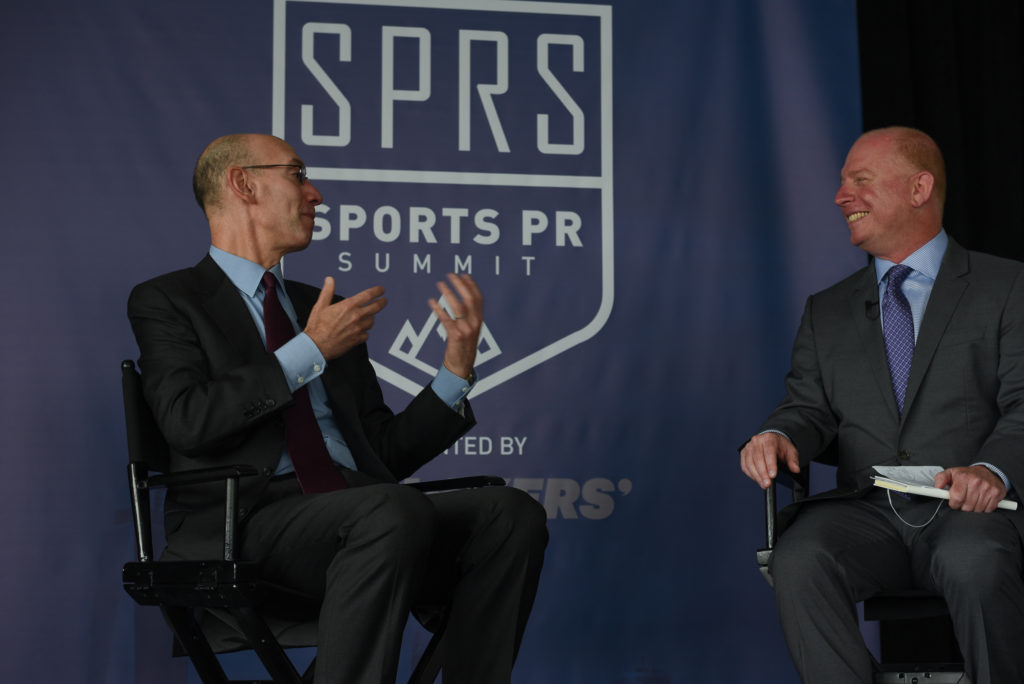 CONVERSATION #3:
The third session of the day was a featured conversation between NBA Commissioner Adam Silver and Sports PR Summit founder Brian Berger (@SBRadio).
Berger began the session by addressing social media. Silver noted that he believes social media is the fan's "backstage pass" to what happens in the NBA. While he understands the perils of social media, he does appreciate its utility. Silver noted that he particularly enjoys the social media accounts of LeBron James and Mark Cuban.
While on the topic of social media, Berger questioned Silver on this season's "ban" on social media trash talk between NBA team accounts. Silver explained that the NBA merely wanted to remind teams about the fine line between having fun and saying something that could be perceived as offensive. Silver was quick to point out that everyone in the NBA is still encouraged to stay active on all social media, as this is the best way to quickly and directly reach the public.
Silver also discussed the emergence of the digital age and the 24-hour news cycle. "We're a global business, athletes are all over the world, and stories take lives of their own," explained Silver. When things happen, the NBA reacts as swiftly as possible. According to Silver, relying solely on traditional media is no longer sufficient to stay current and educated within the multi-dimensional industry. "The best advice I can give is that you have to be paying attention all the time."
Silver stressed the importance of authenticity in any crisis situation. "We act fairly, quickly, and decisively. To be decisive does not mean your decision was not without doubt." Further, the evolving and expanding media environment allow the NBA to have more opportunities in moments of uncertainty. The NBA may not have control of what is being written and said about them, but according to Silver, they do have control over their own media message, which is important when dealing with crises.
Silver also stressed the importance of maintaining an open mind, a mainstay of his professional life. Silver maintained that there have been several times when he's walked into a room thinking one way and left thinking differently. This process allows for the NBA to avoid becoming an echo chamber and be responsive to a diverse audience.
When asked about the continued dominance of the Cleveland Cavaliers and Golden State Warriors and whether it was bad for the league, Silver explained that at the end of the day, the product they have to offer is "incredible basketball". According to Silver, things happen, players get traded, and rivalries are formed. "This is not scripted — these are real people, playing real basketball," explained Silver. "People jump over the reality too quickly."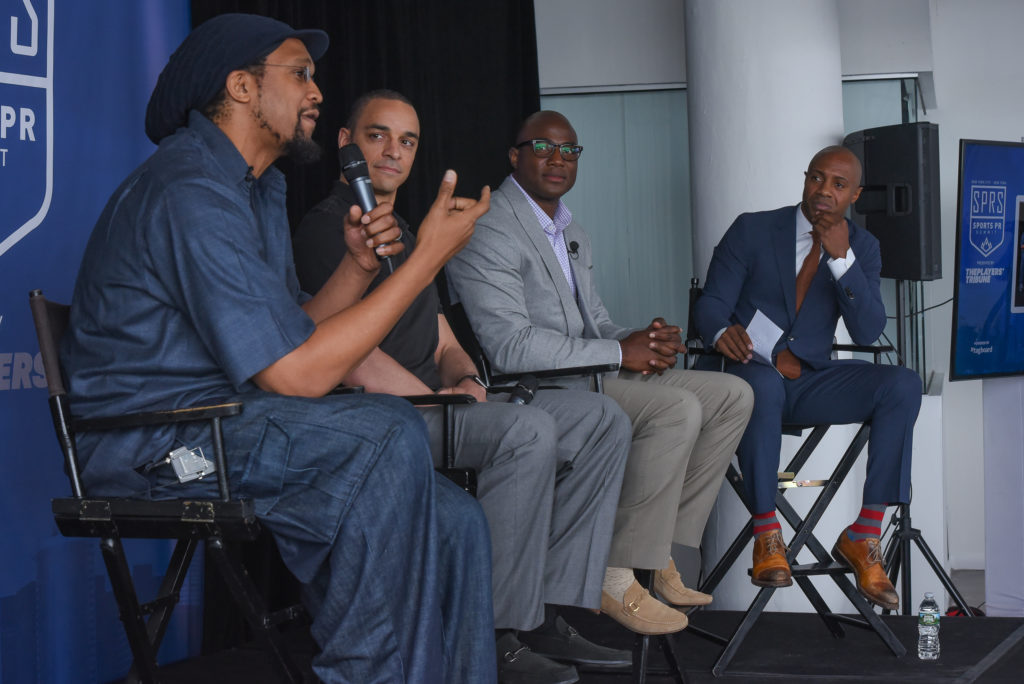 CONVERSATION #4:
The panels continued after lunch, beginning with The Players' Tribune Exclusive Roundtable, moderated by ESPN host and former NBA player Jay Williams (@RealJayWilliams). Panelists included former NBA player Etan Thomas (@EtanThomas36), former NHL player Bryce Salvador (@brycesalvador), and former NFL player DeMarcus Ware (@DeMarcusWare).This conversation provided insight on the sports media industry from an athlete's perspective.
From an outsider's viewpoint, it often difficult to relate to the challenges professional athletes confront, especially as these trials are often discussed and debated by the media. One such topic is that of player injuries. According to the panelists, it can be particularly challenging for athletes to see an injury falsely reported. Thomas recounted on specific case when a publication reported false facts regarding an injury he suffered while playing on the Washington Wizards. Yet once it was reported, it was hard for Thomas to change the narrative. "Once you print it, it's there. It's what the people think," Thomas noted.
According to the panelists, athletes increasingly try to use other outlets to get their message directly to the public. For example, athletes use their own personal media sites or unique publications such as The Players' Tribune to share their thoughts on issues that matters to them. "Sometimes athletes don't even have to go through the media to say what they want to say. They are able to control their own media," explained Thomas. "When Kevin Durant left the Thunder to go to the Warriors, he chose to share that news through The Players' Tribune, rather than ESPN. That's because that is an outlet that he feels comfortable with."
Echoing thoughts from the day's first panel, the athletes during this session maintained that trust was vital in the relationship between themselves and journalists. According to Ware, trust is a critical factor in simply establishing a line of communication. "If I can't trust you, I'm not gonna talk to you," Ware advised the audience. "I never give anybody the benefit of the doubt."
Despite these challenges, Salvador reminded the audience of the importance of showing respect towards the media. He noted that unless he felt personally attacked, he always was respectful towards the media, even when they said or wrote negative things about him. He also noted that reporters could have a hard time relating to the intensity of professional hockey and the inherent strain on the athletes, even as they covered it.
To help gain the same access now offered to publications such as The Players' Tribune, the panel of athletes recommended that members of traditional media make an effort at building trustworthy relationships with them. Ware mentioned how he appreciates when reporters tell him if he is repeating filler words such as "um" or "like," as that shows that they care about him as a person. He also respects reporters who prepare him with questions ahead of time and try not to catch him off guard.
"Building trust comes with showing a person how to do things."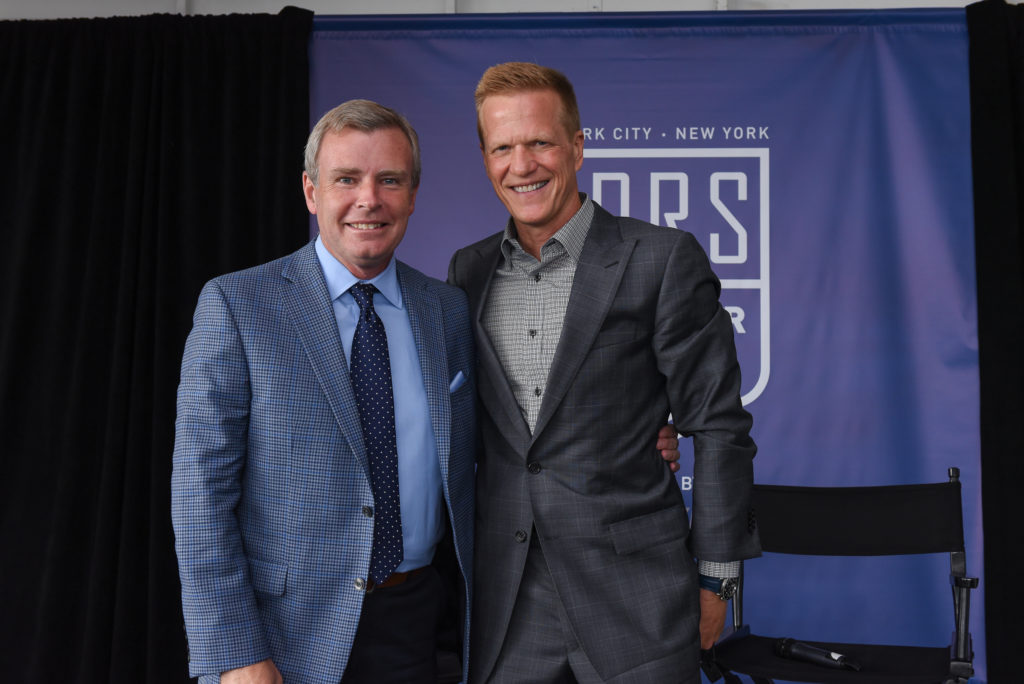 CONVERSATION #5:
The Summit's fifth session was a featured conversation between ESPN Features Reporter Tom Rinaldi which was conducted by Ric Bucher (@RicBucher) of Bleacher Report + Sirius XM Radio.
Rinaldi began the session by describing the power and impact of feature stories. According to Rinaldi, this process can only happen by building trust with a subject and understanding the responsibility that comes with that relationship. "When someone sits down with a stranger and the stranger decides to share their story – and it's a story worth telling of some length – that is an awesome act of trust," Rinaldi noted.
Throughout the conversation, Rinaldi shared captivating anecdotes about his experiences and gave insight into the process of creating some of his stories. Some of these anecdotes were humorous, like tales of an interview he did with Draymond Green after Green accidentally posted an inappropriate picture on social media.
Rinaldi also stressed the importance of doing diligent research before interviewing a subject for a story. One such case came in an interview with James Harden, when Rinaldi was able to emotionally connect with Harden on his childhood nickname "Lucky."
Others stories took a tragic turn, specifically when Rinaldi elaborated on his coverage of a young New England Patriots super-fan Logan Schoenhardt, who eventually lost a devastating battle with brain cancer. While doing interviews for the story, Rinaldi worked with Logan's mother to make sure they felt comfortable with his questions. In this conversation, Rinaldi stressed the importance balancing telling the story with showing the utmost of respect for a child and parent in a heartbreaking moment.
Rinaldi also noted moments when he – in his words – "choked" during an interview and failed to ask the question "the viewer so desperately coveted." According to Rinaldi, you often have to ask a question you know won't be answered, as this is a cornerstone of the reporter's job and the trust they maintain with their readers and viewers. "Sometimes, even when a subject won't answer, there is value in asking the question. Without it, the viewer wonders what you are even doing," Rinaldi noted.
Rinaldi shared tips he uses to get the most out of his interview. Specifically, he provided three questions that he believes can be asked during any interview — What was the low point? What was the turning point? What happened next? Rinaldi also noted that stories should speak to three quandaries, all which should be considered in a good story pitch – Did it move me? Did it surprise me? Is there a transcended fact?
Perhaps in stark contrast to the other speakers and attendees, Rinaldi refrains from using social media. Rinaldi joked that he had "horrifically thin skin and poor self-esteem," keeping him from places such as twitter and Facebook.
However, Rinaldi didn't shy away from the power of high expectations in creating strong work. "Expectation is so powerful. And to set an expectation consistently through the process has so much value."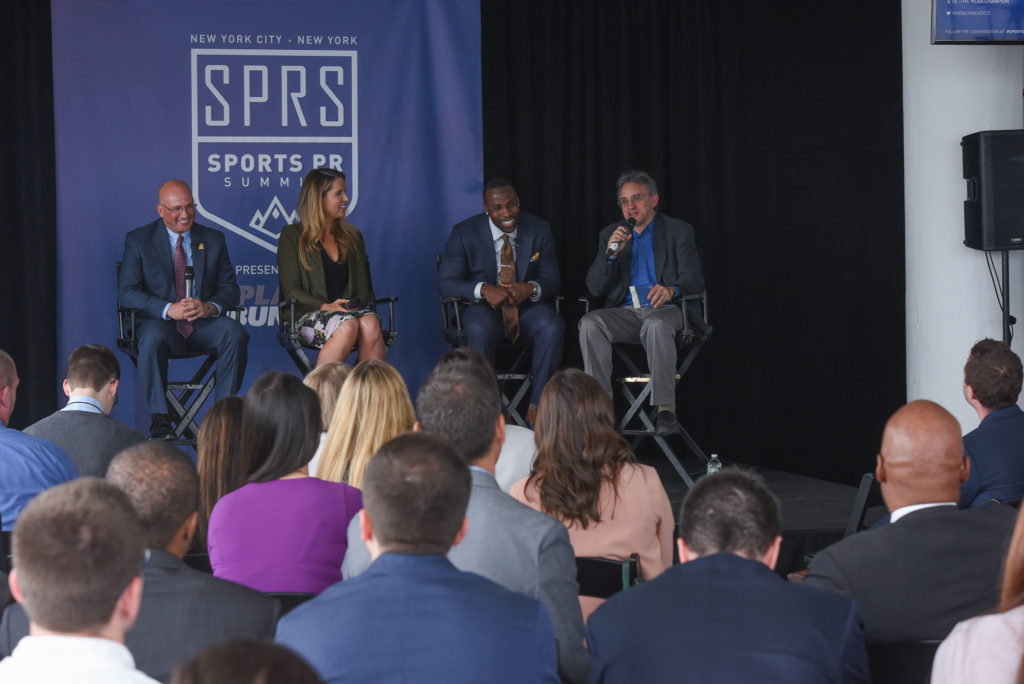 CONVERSATION #6:
The sixth and final panel of the 5th annual Sports PR Summit was titled "Athletes Taking a Stand on Social & Political Issues & Working with PR". Moderated by Sports PR expert and Author Joe Favorito (@JoeFav), this conversation featured 3-Time Olympic Swimmer & 18-Time NCAA Champion Kara Lynn Joyce (@karalynnjoyce), current NFL Player Anquan Boldin (@AnquanBoldin), and Director of Communications for the Pittsburgh Steelers Burt Lauten (@SteelersPRBurt).
According to the panelists, athletes should be encouraged to take a stand on social and political issues that are important to them. Joyce recalled when USA Swimmer Lilly King spoke out about the Russian doping scandal during the Rio Olympics. King was encouraged to keep quiet on the issue, but decided to use the Olympics as her platform to take a stand against athletes using PEDs. "As an Olympic athlete, our voice is heard every four years," explained Joyce.
Meanwhile, professional sports leagues such as the NFL have tried to allow athletes to make their voices heard if they choose to. Lauten says that his role with the Pittsburgh Steelers helps prepare players and create positive opportunities for them to speak their minds. He stated that he is paid to make sure "messages get crafted in a certain way."
Panelists affirmed that athletes have a powerful platform to take a stand and support ideas that they believe in. But they also stressed that athletes wanting to speak out on a social or political issue should be informed. According to Boldin, informed athletes shouldn't be overly concerned about the fallout. "If you believe in something you have to stand up for it. Don't worry about the backlash," Boldin noted.
This is perhaps more challenging for young or novice athletes who are still developing a voice and an audience. Lauten stressed this point and the need for "rookies" to reach out people like himself. "They don't know what they don't know yet as rookies," noted Lauten. "Use us to help inform them even more."
Boldin made similar points, noting that it sometimes takes time before players feel comfortable enough to speak out. Young players may have a higher tendency of lashing out and saying something they might end up regretting. "You only get one time to make a first impression," Boldin reminded the audience. As players become more experienced, they will develop the ability to make their points in a way that is accessible and respectful to as wide of an audience as possible.
All panelists agreed that social media has helped them to more quickly bring messages to the public. They also stressed the importance of creativity in developing that message. And, as Joyce noted, it's also okay to sometimes say nothing at all.
"Let your swimming speak for itself."
###