Tips From a News Editor on How to Make Your Pitch Compelling
By Matt Pepin
Sports Editor, BostonGlobe.com
Last spring, as I considered ways to make the Boston Globe's online coverage of the Boston Marathon unique and compelling, an interesting email landed among the 300 or so I get every day in my inbox.
It was headlined simply "Feature Interview Opportunity – Meb Keflezighi" – which is very similar to many emails I receive from sports public relations or media relations representatives. Like many of those other ones, it was from a publicist on behalf of a sponsor.
But here's what made it stand out, and also ultimately lead to one of the most fascinating multimedia narratives the Boston Globe's online sports department did in 2015: It was short and extremely direct, and made clear the expectations on both sides. The sponsor would arrange one-on-one time with Keflezighi, and would like us to consider one angle of the story to be about his nutrition and training regimen leading up to his defense of his 2014 Boston Marathon title.
The email was 104 words, just enough to get me thinking about what we could do with some exclusive time with Keflezighi. The year before, he had become the first American to win the Boston Marathon in 31 years, and it had come one year after the tragic Boston Marathon bombing. He front-ran almost the entire 26.2 miles. It was a remarkable victory in so many ways.
So telling the full, inside story of how he won that race, in his own words, supplemented with extra text, photos, and lots of video, became very appealing. My response to the pitch was just as direct – would there be interest in working with us to use this opportunity to tell this story in a different way than just story and photo?
Yes, it turns out, they would. And that set in motion about two months worth of work to create this:
http://apps.bostonglobe.com/graphics/2015/04/marathon/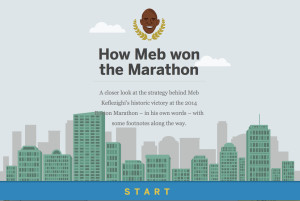 I use that story frequently when speaking with public relations and media relations professionals about best practices regarding our relationship. I appreciate keeping things short and sweet. I appreciate the opportunity to speak freely and honestly, with the understanding that sometimes the answer on one end is no and sometimes the answer on the other end is no. Things just don't always work out.
A few other things I appreciate:
— A heads-up: Even if the full details of a newsmaking event can't be disclosed ahead of time (which is obviously a huge plus when both sides trust each other), getting advance intel on when news is coming is extremely helpful in this fast-paced and frenetic world of online journalism.
— Include multimedia: Almost always, my first question following story pitches or news releases is to request photos, video, or chart data. So those who include it up front get a big plus in my book.
— Give me exclusive access: As with the Meb story, giving me a way to make my coverage stand apart from my competition makes it more attractive. I don't want to be part of herd coverage. I want to be different.
— Point out an angle that would be of interest to me but perhaps not others: Another short story here – I was very inclined to reject a recent pitch I received over the phone, but when the publicist mentioned the person's roots being very close to Boston, it changed the game. That representative had done their homework and found the right hook for me that may not have interested other media.
— Keep it short: One thing that really slows a pitch via email down is a lot of needless greeting material (I despise the opening "I hope this finds you well") or telling me things I already know ("The Super Bowl is right around the corner, are you planning any coverage?"). As mentioned, it's often best to skip the fluff and get right down to business.
###